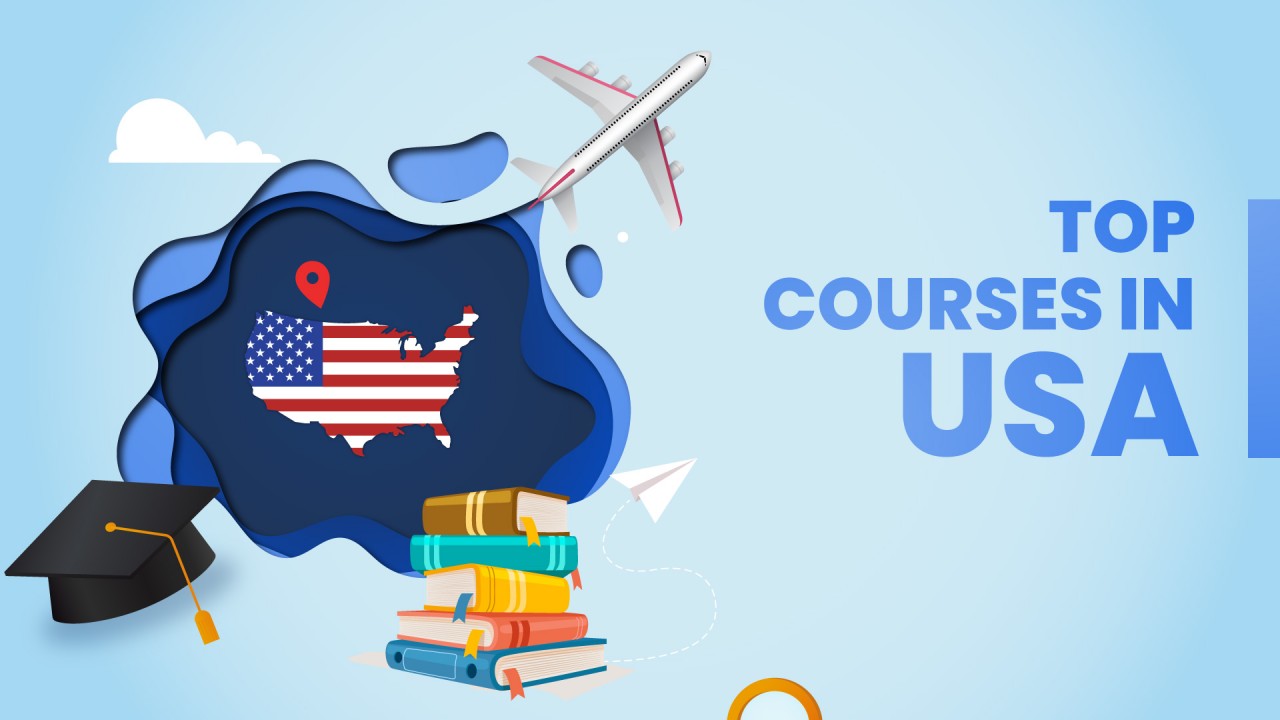 Want to study top courses in USA? The United States has a distinct educational structure that is recognised and respected all around the world. The American curriculum provides pupils with a unique setting for developing the skills they need to become well-rounded students capable of excelling in all subject areas, with a comprehensive and balanced educational approach backed by a large choice of co-curricular activities. The American Curriculum includes a diverse set of courses and subjects aimed at developing balanced students.
The American educational system focuses on assisting pupils in discovering their areas of strength and making the most of their abilities. The curriculum promotes creativity, critical thinking, and social skills to prepare students for university and beyond. Associate degrees come in a variety of forms. The Associate of Arts (A.A.) and Associate of Science (A.S.) degrees are both designed to prepare students for transfer to a four-year institution or university. A bachelor's degree can be earned in four years at more than 2,000 schools and universities. masters degree courses in USA (and PhDs) are significantly more regimented. Students will be able to think and study independently, but they will be assessed much more officially and consistently throughout the master's degree in USA for international students and other students. They also provide financial aid as students can study masters in usa with scholarships. The U.S is known for its flexibility and high standards, if students want to pursue short courses then there are diploma courses in USA for international students. There are also English language courses in usa for international students and management courses in USA.
Students benefit from more structured training and will gain a variety of skills in addition to their academic degrees. Students pursuing a master's degree in the United States will be able to have it both ways. They are exposed to a modern approach in postgraduate courses in USA for international students within a higher education system with a long history of delivering these comprehensive programmes.
What are the Top Courses in USA for International Students?
1. Foundation Courses in USA for International Students
Universities offer foundation courses in usa (also known as Pathways to Undergraduate) to better prepare students for undergraduate studies. Foundation Studies may vary by university, but in general, they are 1-year courses in the USA and be separated into subject streams, such as business or science, depending on the student's undergraduate course of study. University foundation courses are meant to assist students in meeting entry requirements. Foundation courses are delivered on the university campus, giving students full access to the facilities, student services, and a taste of university life while giving them more time to adjust to a new setting than undergraduate education. The majority of foundation programmes last 12 months/one year; however, some courses can be extended for further preparation or accelerated for quick learners. Some of the universities that offer foundation Courses to study in usa are Northeastern University and Colorado State University.
2. Business Courses in United States
Top business schools in the United States have some of the world's most established networks and relationships with local and international firms. These contacts are typically crucial to students flourishment when looking for and post-graduation work. Many MBA programmes also allow students to do an internship while pursuing their degree. These internships may lead to full-time employment opportunities. Regular networking events are held by business schools to meet with local companies and develop relationships that help students in post-study prospects.
According to QS rankings, thirteen of the top 25 MBA programmes were from business schools in the United States, demonstrating the superiority in the depth of US business schools. According to the Jobs & Income Trends Report, the United States is currently the most generous in terms of MBA compensation levels, with an average salary of around $90,900.
3. How are the Medicine and Science Courses in the United States?
In the United States, studying medicine usually begins after four years of undergraduate education, which involves meeting the requirements of pre med courses in usa as well as earning a bachelor's (B.A.) degree in any discipline. The stem courses in usa are desired by most students. The mbbs course duration in usa is four years. In the U.S medical and graduate students, residents, and fellows learn from and study alongside Nobel laureates and various others on everything from fundamental to translational to clinical research.
Medical School education prepares students to excel in the rapidly changing landscape of modern medicine through a curriculum based on the study of leading biomedical science and clinical experience, a wide range of degree programme options, and a long history of innovation that has set the standard for excellence in medical education in the United States. They offer dental courses in usa, physiotherapy courses in usa, nursing courses in usa and various others.
For some, it's the school's incredible reputation, while for others, it's the research chances or the strong emphasis on pre-professional opportunities. Positions in research are readily available and easy to obtain. The research opportunity, excellent teachers, prestige, community involvement, academic rigour, and proximity to the Medical Campus and Hospital are a few of the reasons to study in the USA. There are numerous clinical, leadership opportunities and a variety of dual degree options or subsidized dual degree programmes for students interested in pursuing a PhD in the US. The few areas that students can choose from among
4. Which Engineering

Course is best in USA?
Students enrolled in engineering courses in USA usually invite to specialise early in their studies and engineering is one of the best course to study in usa. The US offers engineering degrees, including environmental, aerospace, biosystems, chemical, and optical sciences, and various others. In terms of engineering research and development, the United States is at the forefront. Studying in the United States may be the best option for students if they want to learn from top researchers in the field or use the latest high-tech tools and equipment. They do world-class research in the fields of sustainability and infrastructures, biomedical systems and technologies, defence and homeland security, and US defence and homeland security.
Engineers in the United States earn far more than their international counterparts. According to PayScale, the average income for an engineer in the United States is around $70,000 compared to other countries. The U.S is committed to opening up engineering to everyone — and revolutionising teaching via evidence and student input — by providing professional learning opportunities, digital tools, and individualised learning. gives students with once-in-a-lifetime opportunities to immerse themselves in projects that cross disciplines.
What are the Best Post-Graduate Engineering Courses in America for International Students?
Civil Engineering.

Me

chanical Engineering.

Electrical Engineering.

Biomedical Engineering.

Environmental Engineering.

Systems Engineering.

Aerospace Engineering.
5. Is good to study Mathematics and computer science in USA?
Mathematics is an exciting field of study. International students will find many opportunities for challenging and creative work. In the U.S they encourage individual work and research, and promote an atmosphere of enthusiasm and stimulation, as well as mentoring and support, has been developed. In the mathematics programme, students gain a thorough understanding of both pure and applied mathematics. Students gain problem-solving and reasoning abilities that will assist them in tackling real-world challenges. Employers value both creative and analytical abilities. Mathematicians are in high demand in a variety of businesses around the world. Accountancy provides math graduates with a variety of job choices in a variety of industries. Statisticians are experts that require the interpretation of numerical data and are needed in a variety of industries, including healthcare, government, finance, and sports.
Computer science students can work in fields as diverse as computer and communication networks, electronic circuits and systems, lasers and photonics, semiconductor and solid-state devices, nanoelectronics, and biomedical engineering in industry and research. In the U.S, students can take one or two basic classes that introduce computer science, and then work to create wide foundations and depth in intellectual theme areas that are relevant to their unique interests. Students can pursue ms in computer science in usa courses or specialized MSc courses in usa. There are laboratory subjects, independent projects, and research that expose students to analysis, design, and experimentation ideas and approaches in a range of contexts. They also offer a variety of programmes that allow students to get industrial experience, ranging from on-campus collaborative industrial projects to term-long internships at partner companies.
Students today can avail online courses in USA that offer skills and high-quality education. Want to pursue the top courses in usa? Study at the ideal destination at the top university and the best course with AECC global assistance. We will guide you through the entire journey, listen to your thoughts and provide a plan for your academic career.
Courses to Study in USA FAQs
Which study is best for the future in the USA?
U.S higher-education programs are distinguished around the world. They offer various courses in all study levels which are taught by experts theoretically and practically.
Which courses are best for international students?
The best courses in the U.S for international students are business, science, medicine, engineering, mathematics and computer science.
Which course is best for the USA?
Businesses in the United States have some of the world's most established networks and relationships with local and international firms.
Study in the USA for Bangladeshi students after 12th?
Yes, after 12th-grade students can enrol into leading universities in the U.S.