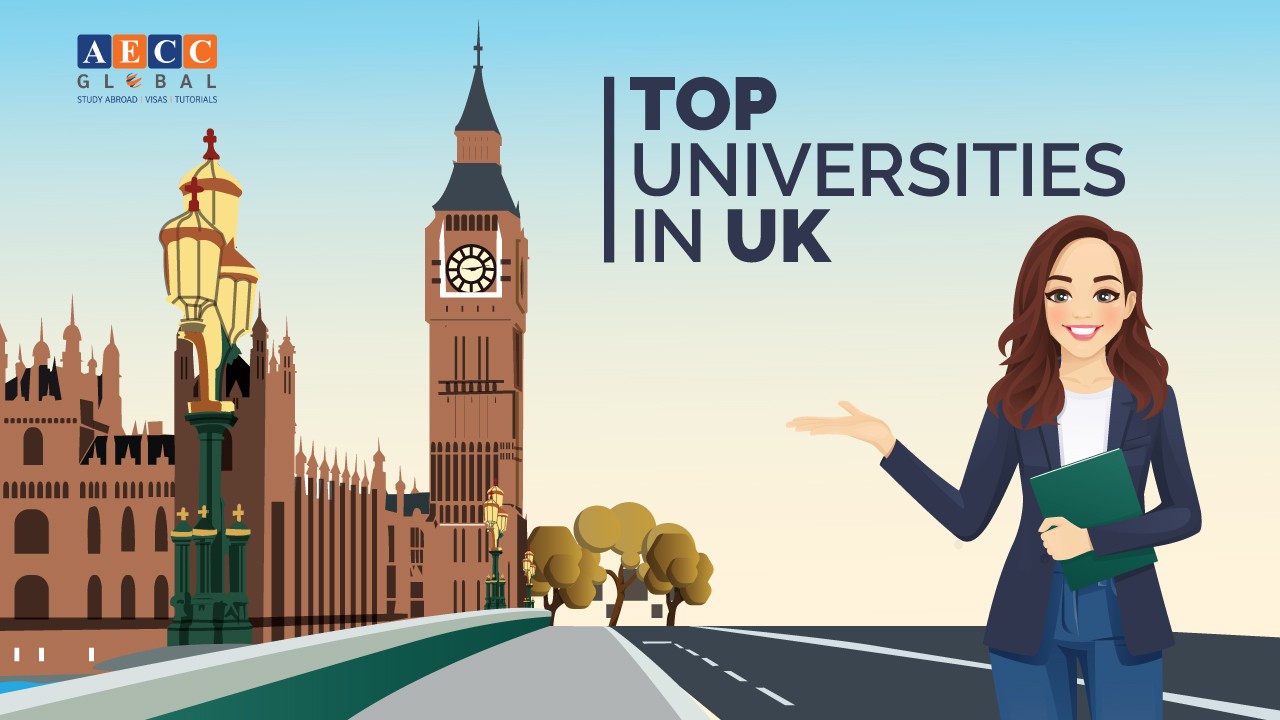 Best Universities in UK
Higher education institutions in the United Kingdom are known around the world for their innovative and challenging environments that encourage students to achieve their full potential. Their standards are high, with experts in a wide range of academic subjects, and they consistently rank high in international university rankings. UK Universities will teach students how to think creatively, work alone, and work as part of a team. The United Kingdom is a unique country, with many families hailing from all over the world. As a result, the United Kingdom has a unique combination of cultures, foods, and interests. Students will not only learn about British culture but also about the cultures of other countries.
An overseas student can often work up to 20 hours per week during the studies and forty hours during vacation. When they study for a degree in the UK, they will develop new abilities that companies value. This permits students to work part-time or intern to gain experience, learn new skills, and earn money while they study. Over 50,000 undergraduate-level higher education programmes are offered by over 395 universities and colleges across the UK.
International students who have a valid UK student visa at the time of application and have successfully completed an undergraduate degree or higher at a Higher Education Provider with a track record of compliance will be eligible for the Graduate Route. If they have successfully finished an undergraduate or master's degree, successful applicants on this route will be permitted to stay and work or look for a job, in the UK for a maximum of two years at any skill level. There are plenty of top universities in UK for international students.
Top Ranking Universities in UK for International Students
| | | | |
| --- | --- | --- | --- |
| Rank | Global Rank | Times Higher Education Rankings (2021) | University Name |
| 1 | 5 | 1 | University of Oxford |
| 2 | 7 | 6 | University of Cambridge |
| 3 | 8 | 11 | Imperial College London |
| 4 | 10 | 16 | UCL (University College London) |
| 5 | 20 | 30 | University of Edinburgh |
| 6 | 27 | 51 | The University of Manchester |
| 7 | 31 | 35 | King's College London (KCL) |
| 8 | 49 | 27 | London School of Economics and Political Science (LSE) |
| 9 | 58 | 91 | University of Bristol |
| 10 | 62 | 77 | The University of Warwick |
What are the Top Universities in UK?
In the Times Higher Education (THE) World University Rankings, Oxford was placed first in the world. Oxford has 24,000 students, with international students accounting for about 45 per cent of the total student body, and Oxford produces the most world-leading research in the UK. Oxfordshire's major employer is the University, which includes the colleges and Oxford University Press.
Throughout the stay here, students will have access to cutting-edge research facilities and unrivalled resources across disciplines, as well as personal and welfare support, academic mentoring, and a feeling of community.
2. Imperial College London
Imperial College London is located in the centre of and a multidisciplinary place for teaching, research, translation, and commercialization, combining science and innovation to address global challenges.
Imperial College ranks in the top 10 business universities in UK.
Imperial College brings together overlapping disciplines, industries, and sectors in four primary areas to help students learn more about the natural world, solve big engineering problems, lead the data science revolution, and promote health and well-being.
And of any major UK university, Imperial has the highest concentration of high-impact research.
3. University of Cambridge
The University of Cambridge is consistently ranked among the best universities in both national and international league tables, and it provides world-class postgraduate education.
Students can choose a degree that combines the subject and research interests from over 300 postgraduate courses at Cambridge, spanning 21 types of qualifications and incorporating both taught and research opportunities across an exceptionally broad range of academic subjects.
Cambridge University also comes under one of the top 50 law universities in uk. Cambridge also has a thriving sports scene having more than 80 sports available.
It is the best university for computer science uk for international students.
4. University of Manchester
The ground-breaking teaching courses are based on world-class research and strong industry ties. Students quickly gain experience and develop skills that will set them apart in the job market in UK for International Students.
The University of Manchester collaborates across disciplines and beyond the University, linking the best minds to develop new answers to the world's toughest challenges, and they have an unrivalled breadth of research activity in the UK.
94% of their graduates go straight into jobs or further studies, due to the award-winning careers service and courses designed with employability in mind.
5. University College of London
UCL is one of the world's best universities. Academic achievement and innovative thought have been the norm. Students at UCL participate in research firsthand, preparing them for the future and instilling in them a lifelong curiosity.
The world's number eight (QS World University Rankings 2022). Students receive a world-class education in one of the world's most lively cities.
UCL is a top-ranked university in addition to being located in the heart of London, so it will enhance students culturally as well as academically.
Postgraduate taught research and teacher training degree programmes are available at UCL.
6. London School of Economics and political science
The School is located in the heart of central London, one of the world's most multicultural cities. Their research informs and enlivens the classes on a regular basis.
Graduate students also contribute to the School's commitment to scholarship through the research that they conduct during their studies.
Approximately 97% of LSE academics are actively involved in research.
Faculty are frequently sought out as advisers, consultants, and commentators, allowing them to become involved in the real-world application of the subjects they teach and research.
7. University of Bristol
The University provides financial assistance to undergraduate students in the form of bursaries, scholarships, and awards.
They also provide students with the skills they need to be effective leaders in whatever field they choose. Students are taught by internationally renowned professors who are specialists in their subjects and are actively involved in research and new discoveries.
The classes are cutting-edge, with instructors who are on the cutting edge of their fields. Every year, more than 500 Bristol students travel abroad as part of their degree to study or work.
8. University of Edinburgh
Edinburgh has architectural beauty and history with a vibrant and international atmosphere. The welcoming campus community offers a lively schedule of social and academic events to assist in settling in quickly.
Their internationalisation plan guarantees that the education and research they provide has a worldwide impact.
They're one of the top 20 most international colleges in the world.
The Graduates of the School of Divinity have gone on to a range of occupations, including ministry, teaching, and charity work, to name a few.
9. King's College of London
It was established in 1829, home to over 29,000 students from over 150 countries. 84% of their research is rated as world-leading, making it the ideal place for students to share and grow their enthusiasm.
Their courses in UK are built around research and evidence-based instruction.
With five Medical Research Council centres and a slew of strategic research collaborators, students will gain the skills to challenge convention, deliver impact and change lives. Kings is home to around 31,000, from more than 150 countries worldwide.
10. Warwick University
They are a top-ranked university in UK with the highest academic and research standards in the world. They have earned them a reputation for ground-breaking research as well as teaching and business collaborations.
They are known for their entrepreneurial spirit and global perspective.
The students have a true opportunity to stand out in the international world of business and research, to obtain a global perspective, and to develop the intercultural skills necessary to be a really good force in today's global society.
Students can participate in activities such as language cafes, cultural events, and studying, working, or volunteering abroad.
How to Apply for University in UK?
We at AECC global provide students guidance and counselling from the start of their journey to the end. We will help you find the ideal university, dream destination, and top-ranked courses. We will help you acquire your visa and follow up your application process for a smooth transition.
FAQs about Universities in UK for Bangladeshi Students?
Which UK university is cheapest for international students?
UK universities hold high standards of education. There are universities that are inexpensive yet offer a great education like Coventry University, Teesside University and various others.
Which UK university is best for international students?
The top universities that are ideal for international students are Kingston University, Oxford University & more.
Which universities in UK are for international students without IELTS?
University of Essex, University of Central Lancashire and University of Greenwich are some of the universities that accept students without IELTS.
Which are the best universities in UK for international students to do their masters?
The UK is ideal for doing Postgraduate degrees for international students. Oxford University, UCL, Imperial College London, University of Cambridge, University of Edinburgh are some of the best universities.