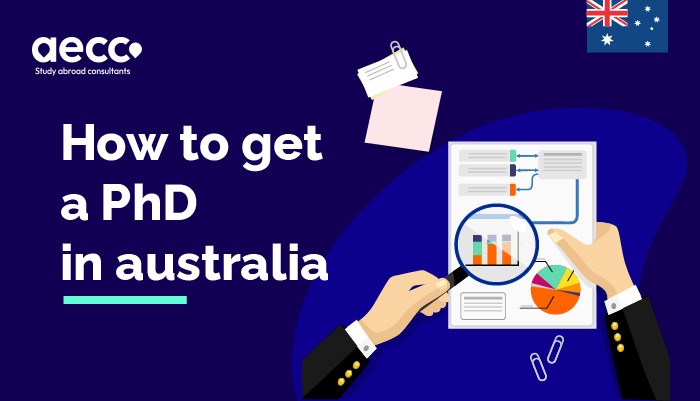 Getting a PhD in a field of study you are interested in is easy if you follow all the university's rules and procedures. As an international student, you need to figure out the specialised area you intend to pursue in your PhD program. The next step is to target the university where you can study the PhD program. Once the program and university are chosen, you need to apply for English language proficiency tests as recommended by the university. Once you hear the admission news from the university, you can apply for a student visa. International students can also reduce their financial burden by opting for scholarships, grants, etc. These are some of how students can get a PhD degree in Australia.
PhD in Australia: Course Highlights
| | |
| --- | --- |
| Program | Doctor of Philosophy |
| Duration of the Course | 3 Years |
| Eligibility | Proof of academic degree earned after 2 years of postgraduate study and 3-4 years of undergraduate study, Average IELTS overall score of 6.5, a promising research proposal, etc. |
| Entrance Exams | IELTS, PTE, TOEFL, CAE etc. |
| Tuition Fees | 30,000-42,000 AUD |
| Jobs | Senior Research Scientist, Research Associate, R&D Manager, Senior Lecturer, Research Fellow, Research Scientist, etc. |
| Average Salary | 80,000 AUD |
Benefits of Studying PhD in Australia
Australia is a central hub for its internationally ranked universities and world-class research centres. If students have a burning desire to study PhD in Australia, it can do a world of good to their skills and knowledge. Pursuing a PhD in Australia also means improved chances of getting employed in Australia and across the globe. Australian universities provide international students with many funding options, including scholarships, grants, etc. Australia is among those countries that allow PhD students to stay in the country for at least 4 years after completing their course to live and work. Studying PhD in Australia is also beneficial for international students as they can soak in the natural beauty of the country's natural attractions. The government is also home to several architectural landmarks and World Heritage Sites.
List of Universities in Australia for PhD
| | | |
| --- | --- | --- |
| S. No | Name of the University | QS World Ranking |
| 1 | The Australian National University | 27 |
| 2 | The University of Melbourne | 37 |
| 3 | The University of Sydney | 38 |
| 4 | The University of New South Wales | 43 |
| 5 | The University of Queensland | 47 |
| 6 | Monash University | 58 |
| 7 | The University of Western Australia | 93 |
| 8 | The University of Adelaide | 108 |
| 9 | University of Technology Sydney | 133 |
| 10 | University of Wollongong | 193 |
Cost of Studying PhD in Australia
After deciding to study in Australia, you need to consider the expenditures well ahead of time before deciding on other aspects, like the course and the university. For international students, the cost of pursuing PhD in Australia varies according to RA (Research assistantship) and TA (Teaching assistantship) opportunities and the university's tuition fees. On average, students may need to spend AUD 42,000 per year. However, the good news is that international students have numerous scholarships, grants, and other financial concessions to consider for alleviating their financial worries. The cost of studying PhD in Australia can be broadly classified into two types – Pre-arrival expenses (like Visa application fees, health insurance, IELTS fees, PTE fees, TOEFL fees, etc.) and post-arrival fees (like living costs, etc.)
PhD Course Fees in Australia
The PhD course fees for international students in Australia can vary between AUD 28,787 and AUD 41,381. It all depends on the PhD course you take up and the university you wish to study in.
Cost of Living in Australia
| | |
| --- | --- |
| Kind of Expenses | Amount (AUD) |
| Accommodation | 1000 per month |
| Public Transportation | 40 per month |
| Food | 800 per month |
| Utilities | 60 per month |
| Entertainment | 110 per month |
PhD in Australia : Eligibility Requirements
A four-year master's degree in a relevant discipline with an appropriate research component. An average mark of at least 75% in the final year or equivalent courses is a must.
Suppose the student does not have a four-year master's degree. In that case, he or she must have the professional experience or qualifications that are considered equal.
Must have English Proficiency test scores, like IELTS, PTE, TOEFL, etc.
Students must also have a prospective supervisor's recommendation or obtain referee reviews.
Exams Required to Study PhD in Australia
TOEFL iBT (Test of English as a Foreign Language internet-based)
Cambridge C1 Advanced Test
Occupational English Test (OET)
PhD Scholarships for International Students in Australia
There are plenty of scholarships available for international students in Australia to help lessen their financial burden while pursuing a PhD course. However, the selection criteria for these scholarships may vary from one university to another. Therefore, international students need to verify with the university authorities to figure out if they qualify for the scholarship or not.
| | | | |
| --- | --- | --- | --- |
| Name of the University | Scholarship | Eligibility | Amount (AUD) |
| Australian National University | ANU PhD Scholarships | Should be an international student, have applied for admission to a Professional Doctorate by Research program or a PhD, have a Master's degree with a research component or equivalent from an accredited university or a Bachelor's degree with first-class honours | 28,854 per annum for 3 years |
| The University of Melbourne | Graduate Research Scholarships | Must have applied for the PhD program at the University of Melbourne and meet the entry requirements set by the university | 100% fee remission and up to $110,000 |
| Monash University | Maxwell King PhD Scholarship | Must be an international student, be undertaking research in the study areas listed by Monash University, and meet the Monash English language proficiency requirements | Up to 36,800 |
| The University of Queensland | Graduate School Scholarships | When the student is enrolled at an institute or school at UQ, assessed by the Graduate School as meeting all requirements for admission to a PhD program | Living stipend of 28,854 per annum tax-free, indexed annually |
| The University of Adelaide | University of Adelaide Research Scholarships (UARS) – International Students | International students must maintain 'international student' status for the duration of their enrolment at the university, applicants must be eligible to enrol in a full-time HDR program at the university and must meet the minimum English language proficiency requirements as set by the university | 28,854 per annum for up to 3.5 years of a PhD program |
| University of New South Wales | Tuition Fee Scholarship (TFS) plus a Research Stipend | Applicant must be an international student having an MSc degree certificate or equivalent and must be admitted into a PhD program | $28,854 per annum |
Career After PhD in Australia
Australia presents a plethora of career options for PhD students. Having a Doctorate boosts your career prospects, and there will be ample opportunities for students to showcase their skills and knowledge in different industries. The average salary of PhD students in Australia is between 50,000 AUD and 80,000 AUD per year. So, students interested in pursuing PhD courses can consider Australia a serious option.
| | |
| --- | --- |
| Job Profile | Salary (AUD) |
| Research Fellow | 92,000 per annum |
| Research Scientist | 94,000 per annum |
| Senior Research Scientist | 109,000 per annum |
| R&D Manager | 133,000 per annum |
| Lecturer | 87,000 per annum |
| Research Officer | 77,000 per annum |
How can a bangladeshi student can apply for PhD in Australia
Step 1: PhD courses and programs offered by Australian universities may vary. At AECC , we make sure that you are aware of the minimum eligibility requirements of the universities so that the confusion is not there. You are well equipped with the necessary documents to enhance your chances of admission to the course you are targeting. AECC prepares you for various tests and interviews that are part and parcel of university admission processes across Australia. Be it English language proficiency tests or visa interviews; we help you prepare for all of them and ensure that you crack the real ones effortlessly.
Step 2: AECC can enable you to fill up the application form and guide you in preparing the preliminary research proposal that will act as a tool for displaying your thoughts. You can make necessary changes to the proposal after getting selected for the program. We help you choose the best supervisor profiles on the researcher's website, including the supervisor's published publications, research skills, and contact information.
Step 3: Bangladeshi students need to fulfil the pre-application requirements of the college to which they are applying. AECC helps you with that and more. Our experts will work with you to identify and acquire your supervisor's support before you start applying for the program. Some colleges may ask for a brief description of the students' prospective field.
Step 4: A proposal must be created to start the Joint or Dual Award PhD application process. As a part of the pre-application process, it will be sent to prospective supervisors.
Step 5: Bangladeshi students can start applying to the universities you have shortlisted for your PhD program once the research proposal and the necessary documents are ready. We help you process your PhD application after checking the university's deadline.
Step 6: The application results will be delivered to the email address of Bangladeshi students. If the students apply for a scholarship, they may need to wait for 6-8 weeks to complete the assessment.
Studying PhD in Australia will equip you with lots of exposure in your field. Australian PhD programs allow students to explore a wide range of research opportunities to delve deeper into their subjects of interest. At AECC , we help you at every step to make it possible for you to study for a PhD in Australia. Our experts are knowledgeable and experienced in providing you with personalised counselling services that will make a difference in your studies goals in Australia. Talk to our experts, and we will help you realise your dreams.